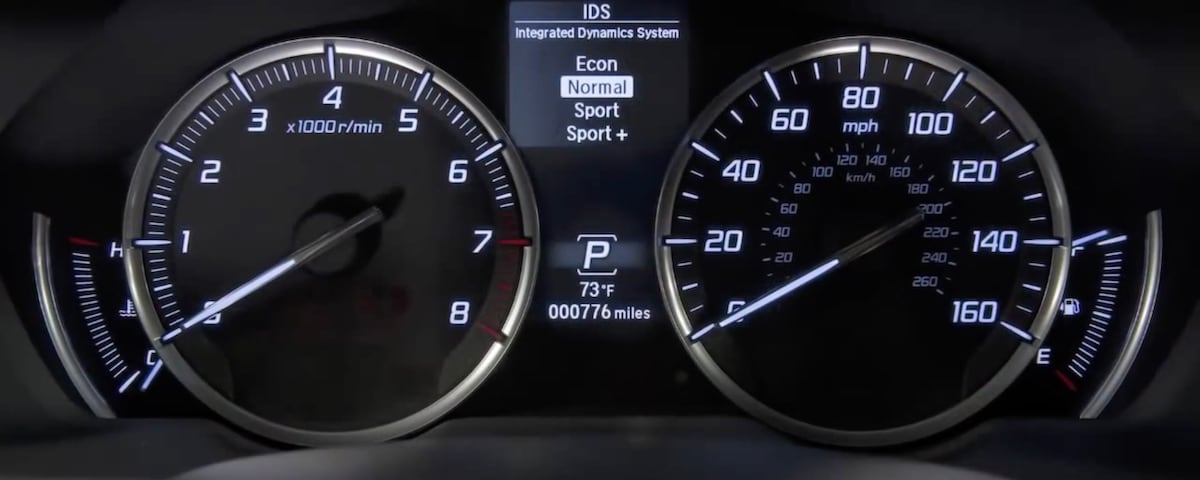 What Is The Acura Integrated Dynamics System?
The Acura Integrated Dynamics System, or IDS, offers drivers a quick and easy way to change the driving dynamics of their Acura. With settings for Normal, Comfort, Economy, Sport, and Sport+, you can use the Integrated Dynamics System to instantly change the driving dynamics and feel of your Acura. The system is easy to use, simply press a button behind the shift lever to instantly switch between driving modes.
Selectable Driving Modes
With numerous driving modes to choose from, the Integrated Dynamics System gives Acura drivers more options than ever. With just the press of a button, you can select from multiple driving modes anytime you like, meaning you can switch to the perfect mode when the situation calls for it. Whether you're looking for a smooth commute with Comfort Mode or a spirited backroads adventure with Sport Mode, the Integrated Dynamics System allows you adjust your new Acura to your unique driving style.
Normal: Normal mode is the standard, providing regular everyday performance and driving style. Driving dynamics and performance are not altered.
Comfort: Comfort mode uses the same driving dynamics as Normal mode, but reduced steering input feel, meaning less pressure needed to navigate the road, making for a more comfortable journey.
Economy: Economy mode is designed to maximize fuel efficiency. Throttle input is less sensitive and climate control is dialed back to use less fuel. Best used for long road trips or freeway driving.
Sport: Sport mode, unlike Comfort, will actually increase steering wheel feedback. In addition, throttle response is increased and the Active Sound Control will allow more exhaust noise. Models equipped with Super Handling All-Wheel Drive will receive more power to the rear wheels in Sport mode.
Sport+: Sport+ mode takes the same Sport mode features and adds a much more aggressive shifting algorithm, making for higher revs and quicker shifts throughout the range.
New Acura Vehicles With IDS
The Acura Integrated Dynamics System is one of the best ways to get the most out of your new Acura car or SUV. By giving you multiple options, you can instantly switch driving modes to fit your needs. The Acura Integrated Dynamics System is currently available on all new Acura cars and SUVs for sale at our showroom in Santa Clara. For more information about the Acura Integrated Dynamics System, or any other new Acura feature, give us a call at (408) 758-5502 to speak with one of our friendly and knowledgeable teammates. While you're here, be sure to view our new inventory to find your new Acura with the Integrated Dynamics System today!