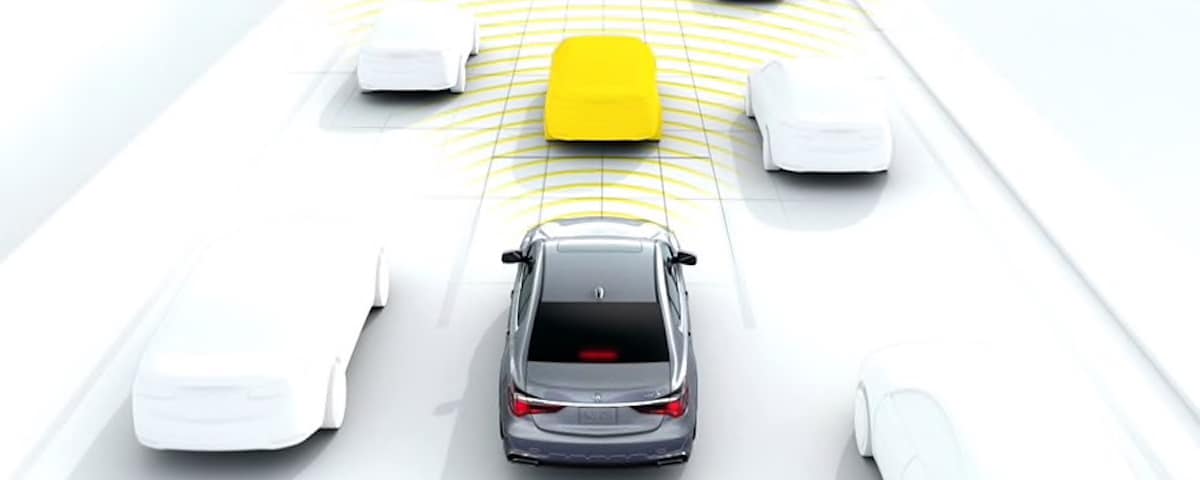 What Is Acura Adaptive Cruise Control?
Acura Adaptive Cruise Control is a sophisticated system designed to make cruise control both safer and easier to use. Unlike a standard cruise control system, which only operates at a single set speed, Acura Adaptive Cruise Control scans the road ahead for traffic, and can automatically adjust the vehicle's speed to account for traffic ahead. If traffic clears up, the vehicle can accelerate back to the set speed.
The standard-equipped cruise control system found on most new cars can be rather complicated, requiring multiple adjustments and confirmations to even work. Acura Adaptive Cruise Control, or ACC, has taken the hassle our of this process by allowing you to simply set your maximum speed and follow distance just once. By using a high-tech radar system built into the front grille, as well as the internal vehicle computer, Acura ACC can quickly detect vehicles ahead, and maintain a safe following distance. Best of all, thanks to the Low-Speed Follow technology, this advanced system can even operate at low speeds, including stop-and-go traffic. The Acura Adaptive Cruise Control system is easy to use, and only takes a few moments to activate while driving.
How to Use Acura Adaptive Cruise Control
While driving between 20 and 95 MPH, press the MAIN button on the right side of your steering wheel. For reference, it will be above the Cruise Control Set switch.
Confirm that the green ACC icon has appeared on the instrument display, and accelerate to your desired speed.
Once you have maintained speed, press down on the Set switch. The cruise control will now be active and will display your cruising speed on the instrument display.
Once behind a vehicle, press the Set Distance button, which is at the bottom right section of the steering wheel. For reference, it will look like the silhouette of a car with several bars in front of it. Each press will change the following distance, to a maximum of four bars.
If a change in speed is required, press the Set switch up or down to adjust in 1-MPH increments.
To cancel out of cruise control, you can press the CANCEL button, MAIN button, or lightly depress the brake pedal.
New Acura Vehicles With Adaptive Cruise Control
Acura Adaptive Cruise Control is one of the best advancements in freeway driving technology, and now comes standard on all new Acura vehicles. For more information about Acura Adaptive Cruise Control, or any other Acura technology, call us at (408) 758-5502 to speak with one of our friendly and knowledgeable teammates. While you're here, be sure to explore our entire inventory of new Acura cars and SUVs for sale in Santa Clara.